My daughter woke up at 5:30 this morning (two hours early) going "UUUH! UUUH!" every few seconds. She did this for at least an hour before finally going back to sleep. She woke up around 7:30 to the sound of my husband coughing. And I woke up with his cold.
In that space between when she went back to sleep and when he woke us all up I had a dream about the studio. It was coming together, turquoise countertops and all, and looking fabulous. Then, in my dream, my daughter tumbled down a short flight of carpeted stairs. I watched in slow-motion, unable to get to her in time. She's only 18 months old, and I was terrified. I called 9-1-1 and the operator laughed at me. I was beyond furious.
I tossed and turned in bed before coming downstairs to a cuddly, adorable little girl, who was not the least bit injured by my dream. I've said (for the last year and a half) that the hardest thing about being a parent is sleep. Sometimes my work day ends early because her nap does, sometimes my sleep ends early because she wants to make adorable noises in her crib. And sometimes I think she does these things on purpose, because on my hardest days she seems to wake up the earliest from her nap, helping me to re-focus on what is important in life.
There were a lot of hard days last week, and more than a few made me want to just throw in the towel. She helps me remember something that I often forget: focus on the good in life. There is more of it than there is bad. I'm still unsettled on a few things, but regardless of what else is going on in the world, she is my light.
And speaking of light, here are the ideas I obsessed over yesterday:
Library Wall Sconces by Barbara Cosgrove, $325 for the pair. Clayton Gray Home. Or, just found out they are $248 from Décor Interiors! I think these would be great above a bathroom mirror.
Hollywood Boathouse Antique Nickel Light, $325. Clayton Gray Home. The best deal I found was $285 from J Covington Designs.
Bell Jar Pendant Light by Barbara Cosgrove, $115. Clayton Gray Home.
Marine Pendant Light by Barbara Cosgrove, $1015. Clayton Gray Home. (Totally not in the budget, but how cool is this?)
Hammered Iron Oval Pendant, $195. Clayton Gray Home.
Pulley Wall Light from Go Home, $497.50. Décor Interiors.
Dakota Wall Light, $849.99 (sale). Cultured Living.
Boston Plug In Library Sconce, $335.90 (sale). Bellacor. I like that this could be pulled closer to you, much in the same way a pulley light could. It would work well for task lighting, when you need a little extra brightness only where you are.
Extender Wall Lamp, $585. J Covington Designs.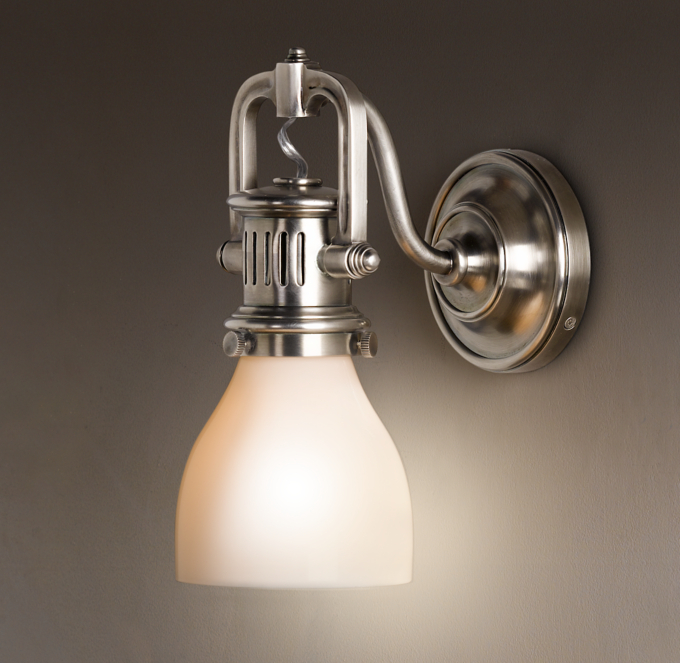 1920's Factory Sconce, $259 from Restoration Hardware. I love the distinctly Steampunk vibe they have going on, though I am not sure I can pull it off.
Then late last night I found this:
Benjamin 17" Bomber Porcelain Stem Mount Light, $239. Barn Light Electric.
I spent hours looking through the Barn Light Electric site. I love everything. I want one of each, all in Jadeite! The pieces are simple, a little industrial, a little vintage, and you can order them in plenty of colors. They aren't cheap, but they aren't break the bank expensive either. And barn lights + leather workshop, it just seems to fit.
Off to count down the days in my tiny studio…
xo
c